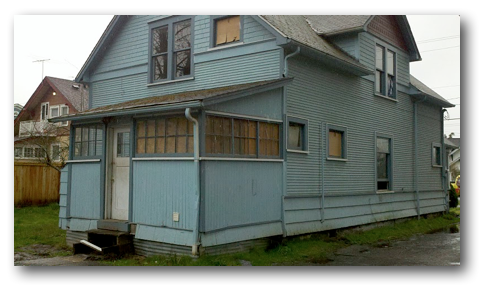 Puyallup Profit Ready to be Made!
443 5th St NE
Puyallup, WA 98372
Potential net profit of 49,000!
Bedrooms: 4
Bathrooms: 2
Sq Footage: 1488
Lot Size: 10,019
Garage 660
Year Built: 1912
Effective Year Built: 1950
Tax Assessed Value: $179,800
This property is located in a great part of and has a
tremendous amount of potential. The property has
good artitecture, woodwork, and will be charmer when
it hits market. In addition, the house comes with an
oversized 660 sq foot garage. The wiring, plumbing
and roof are all in good shape.

Recommended Repairs:
– Refinish hardwoods
– Carpet
– Interior / Exterior paint
– Kitchen upgrade
– Bathroom upgrades
– Landscaping
– Fix the garage
– Privacy fence
Potential net profit of 49,000!
Total Investor Acquisition = $95,000
Call or

Email

immediately to reserve this opportunity!
Talk soon,
Joe Bauer & Erik Bee
www.SeattleRealEstateInvesting.com