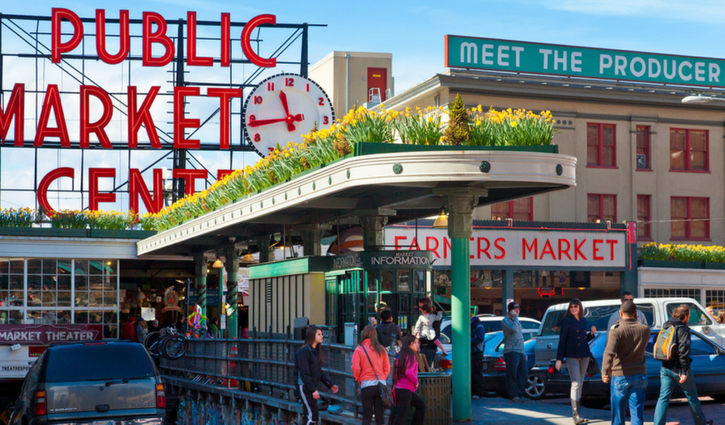 Seattle is much more than the birthplace of Starbucks. In fact, the Emerald City has made quite a name for itself as a bustling food hub thanks to its fresh seafood markets and impressive epicurean diversity.
Any online search for Seattle's best restaurants will lead you to iconic favorites such as Dahlia Lounge, steakhouse El Gaucho, and vegetarian-haven Café Flora. And we can't forget Maneki, the Japanese restaurant on Sixth Ave that opened more than 100 years ago.
However, the best part about Seattle's gastronomic culture is that there's a place to dine for every palate and every budget. If you're on the food prowl for the best places to eat in Seattle for under $10, here are ten of our favorites:
1. Pike Place Market: 16 oz. bowl of Pike Place Chowder for $9.95
Located at 1530 Post Alley Seattle & 600 Pine St.
We start with the most obvious – Pike Place Chowder. You can't say you've been to Seattle if you haven't had Seattle's award-winning, hall-of-fame chowder. America's #1 chowder is creamy smooth, loaded with meaty clams, flavored with bacon, onions, potatoes, cream, and a secret blend of herbs and spices.  It's definitely a great place to Eat in Seattle for Under $10
2. El Quetzal: Ricos Tacos with Carne Asada for $1.65
Located at 3209 Beach Ave S, Beacon Hill.
El Quetzal's Rico Tacos are double soft tortilla with carne asada topped with cilantro, onions, and salsa. While that sounds simple; they're anything but when it comes to flavor. And if you're working with a $10 budget, that's six orders!
3. Beecher's: World's Best Mac & Cheese for $6.50
Located at Pike Place Market, 1600 Pike Pl.
Made with handcrafted, artisan cheese, it's a mac & cheese that lives up to its name. It combines Beecher's signature Flagship cheese with Just Jack cheese, penne pasta, with just a hint of spice.  It's the bomb! 
4. Nasai Teriyaki: Spicy Chicken Teriyaki for $8.50
Located at 16849 Redmond Way.
Nasai Teriyaki is famous for their teriyaki sauce, especially the spicy version. This dish is a marinated chicken thigh that's grilled and sautéed in that famous spicy teriyaki sauce and served with rice and salad. OR for only $4.99 (much less than $10), you get six pieces of delicious golden-brown pork and vegetable Gyozas, served with Nasai homemade gyoza dippin' sauce.
5. Rain City Burgers: Mushroom Swiss Burger for $7.49
Located at 6501 Roosevelt Way NE.
The Seattle Times chose the Mushroom Swiss Burger as their favorite. What's not to love about portobello mushroom and swiss cheese. Not a fan of mushrooms? All of Rain City burgers are under $10. Even the 12th Man Burger which is made up of 2 beef patties, 4 slices of bacon, and 2 slices of American cheese (this is what I usually get!).
6. Mr. Gyros: Lamb & Beef or Chicken Gyros for $7.69
Located at Wallingford, Greenwood, Ballard, and the Microsoft Campus.  
Seattle Magazine describes Mr.Gyros as "gyro nirvana." Just imagine tender shavings of succulent meat stuffed into fluffy pita combined with fresh yogurt, onions, and a secret sauce.  This is a GREAT place to Eat in Seattle for Under $10
7. Bang Bang Café: The Bang Bang Breakfast Burrito for $7.50
Located at 2460 Western Ave.
Wake up with a bang-bang to a breakfast burrito made with scrambled eggs, pinto beans, potatoes, cheddar cheese topped with green and red Chile sauce.
8. Pho Bac: Signature Ph? Bò for $9.75
Located at 1809 Minor Ave #102.
Pho Bac's Ph? Bò, an authentic Vietnamese beef soup with steak, well-done brisket, meatballs, tripe, and tendon, needs to make it to your list of comfort foods, especially on one of those rainy Seattle days.
9. Un Bien: Carne and Rice for $7
Located at 7302 15th Ave. NW.
Most people come for their famous Caribbean sandwiches. However, you won't want to overlook Un Bien's Carne and Rice; choose from roasted pork, fire-grilled chicken breast, grilled smokin' thighs, Palomilla steak, or pork steak. Now watch them serve it on a bed of lettuce or pickled cabbage. And for a $1.75, you can add caramelized onions.
10. Hot Mama's: Pizza Slices for $2.25 – $2.70
Located at 700 E Pine St.
Hot Mama's Pizza has been serving NY-style pizza in Seattle for more than 15 years. Try their Spinach slice, a blend of spinach, ricotta, and mozzarella baked on a butter base. However, they're pretty famous for their Pesto.
What's your favorite cuisine? Are you from Seattle? Did all of your favorites make the list? Did we miss anything? Let us know your best places to Eat in Seattle for Under $10!