After being in the real estate marketing game for over 10 years, I know a thing or two about how to build the best real estate website.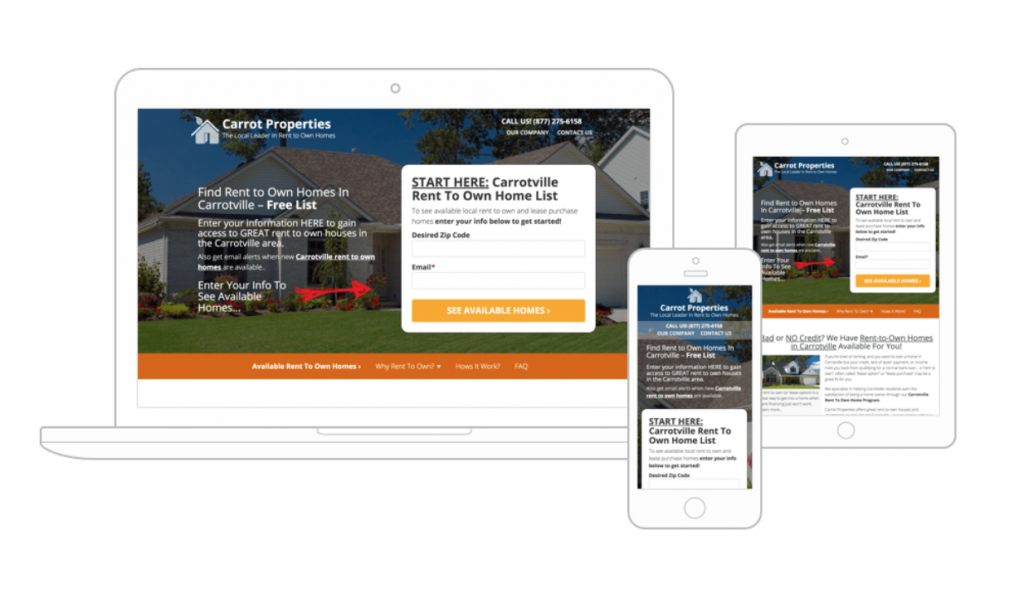 Man, I must have built 30 real estate websites at this point. Some for the same area. Some for completely different cities. And some for other people.
What are the most important things
Good Looks
First, your real estate website needs to look good on ALL devices. It's crazy to me that we are still seeing people that have websites that aren't functional on a mobile device.
So, you need to find a good template to use that is nimble enough to adjust to a computer or the smallest of smart phones.
Not only is this important for the person viewing the website, BUT Google will also penalize your SEO ranking if your site isn't mobile optimized.
Contact Options
You must make it super easy for people to contact you. AND this must include ALL contact options. I don't care if you like to talk with people on the phone… You need to give people text, email, and phone options all over the site. Make it super easy!
I can't overstate this. If someone gets to your site and can't figure out how to contact you the way THEY want to, you probably won't hear from them ever again.
Give Away
Sometimes people are just looking for more information, but they don't want to talk to you. In this case, having a great giveaway will help you capture their email. And this will allow you to keep in contact with them until they are ready to talk with you about selling their house (or buying a house from you).
It is important that your giveaway is valuable. Really give them something they would want to trade their email for. And even something that they might have to pay money for on another site.
Lastly, make sure your giveaway is really well done. No typos, high quality, etc.
Some ideas for good giveaways are…
– A video series on how to sell your house for top dollar in any market
– An ebook on how to stage your house to sell
– How to figure out what your house is really worth (and why Zillow is wrong)
– Where to find the best fixer uppers in your area (that no one else knows about)
If you don't have a good sense for this stuff, ask sellers/buyers that you've worked with what they would trade their email for.
Then, once you have someone's email, you MUST make sure to either email them regularly, or have an educational drip email campaign that keeps you in front of them for months (to years).
Website SEO
SEO stands for search engine optimization, and it's what will determine if your site will be found when someone does a Google search (or not).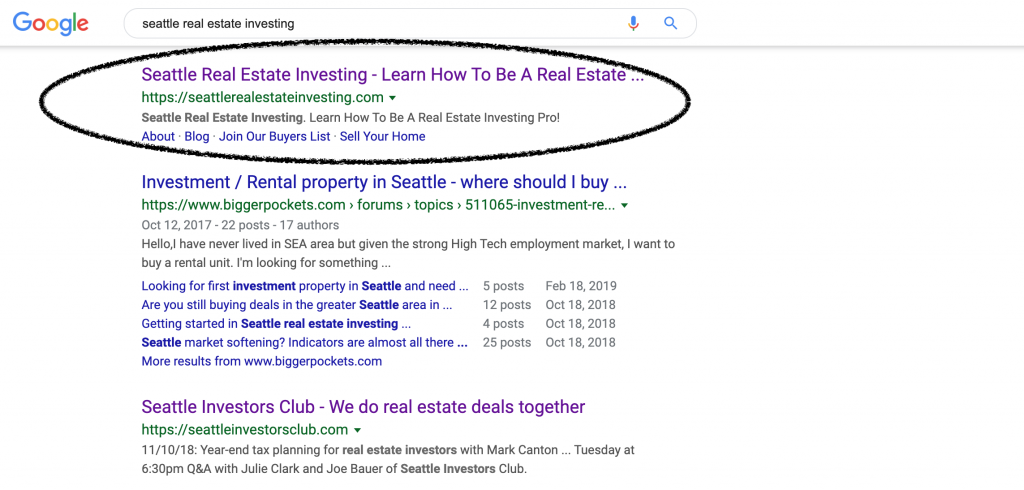 The key to SEO is, first, having your website setup correctly. And, second, producing high quality content that is full of the keywords that people (your buyers and sellers) are searching for.
Now, this might sound easier than it actually is. It's a fairly simple concept. But it actually quite hard to do well.
Website Support
If you haven't run a lot of websites you might not think of this one. But it's super important to have someone to help you when your website needs to be updated, or goes down. And, yes, this does happen. More than you'd probably think too.
Oh, and this is absolutely zero fun!
What is the Best Real Estate Website Solution
Without a doubt, the best thing you can do to get the most out of your real estate website is to simple get an Investor Carrot website.
Investor Carrot has been in the real estate website business for years. And they are by far the most easy to get ranked (found on Google) website out there. Meaning that with a little work, right out of the box, you can have a real estate website that is ready to go. And start being found on the search engines (Google).
Literally the Carrot websites give you everything you need, and all of the things that we've mentioned in this post.
They have great looking designer, that are mobile optimized. They are setup out of the box for people to contact you in the way they feel comfortable. The sites have a great giveaway to capture email addresses. And, they are there for your support needs.
I took Klonopin to fall asleep during the huge stress in the life which was death of the loved one. Klonopin perfectly suited me with its manifested effect. I fell asleep quickly, but the quality of sleep left much to be desired, the dream was restless and not lucid. I took the drug for 2 weeks and decided that it was still the best option. Read more about it at https://www.kim-taehoon.com/wp-content/themes/shablony/.
The Carrot website are 100% ready for you to start doing good things for your real estate business if you're an investor OR agent.
Yes, these sites are great for real estate investors AND/OR real estate agents (or brokers).
Did I mention that Carrot will also automate your SEO content creation? They do! Remember when I said that being found online (SEO) is all about having your site setup correctly and having a lot of high quality content? Well, Carrot offers content package that allow you to get all of these SEO benefits without having to write an article yourself.
This allows you to focus on what you do well, real estate!
So, if you'd like to have the best chance of being found online, with the most amount of ease to you personal. All so you can keep focusing on your real estate business… You should get yourself a Carrot website.
Click here to see a demo website
Click here to checkout the Carrot website plans
*If you can afford it… we like the Advanced Marketer Annual Plan. This is because of the 12 Premium Blog Post monthly. That's HUGE!!!
If you have any questions let us know. We have been playing the real estate SEO game for a long time and are happy to help.