After being with the Fortune Builders Mastery program since the very first class, both of us are blessed to be a part of their coaching community. And a couple of times a year the coaches will all get together to learn from each other, and get better at real estate, and coaching real estate.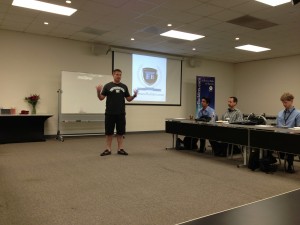 This year the Fortune Builders Mastery coaches mastermind was held in San Diego, CA at the FortuneBuilders training center.
We had 2 days of learning, and even some fun on a catamaran. Yep! Paddleboard races, tug of war, and some dancing may have been involved…
But back to the learning. We talked in-depth on how to better inspire the students that we work with on a daily bases, and how to make their experience second to none. Sometimes it's as simple as the words that you use as a coach that makes the difference between a student taking action, and creating success, and doing nothing.
This can also be true with the words that we use when talking to ourselves. Our internal voices.
Words can make all the difference.
Overcoming Fear
We also did a cool exercise on overcoming fear. Here's how it works… You take a mouse buy phentermine trap (yes a real mouse trap), you set it. Then you close your eyes and have someone coach you into dismantling the mouse trap with your eyes closed. This is actually pretty nerve racking. At first I thought, "no big deal," but once you close your eyes, some fear kicks in. You start to wonder if a little mouse trap could actually break your finger.
With my eyes closed, I let my coach tell me exactly where to hover my hand over the mouse trap. Once I was about 2 inches above the trap, my coach told me to slap my hand down as fast as I could. When I did this the mouse trap couldn't slam closed because my hand stopped the trigger. From there you lift your hand quickly, and the trap slaps closed without causing you any harm.
This exercise was designed to simulate the same fear that you feel when trying something new. Maybe starting a real estate investing business with the Fortune Builders… In reality the feeling was pretty close to what I remember when I was first making phone calls to investors back in New Jersey. I got that same dropping feeling in my stomach. The feeling of the unknown.
The Fun Stuff
To conclude the weekend we all jumped in vans, and were shuttled to the water where we boarded catamarans for a day of sun and fun!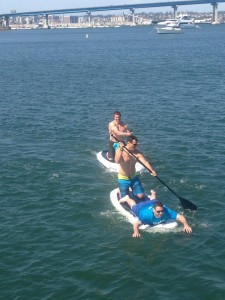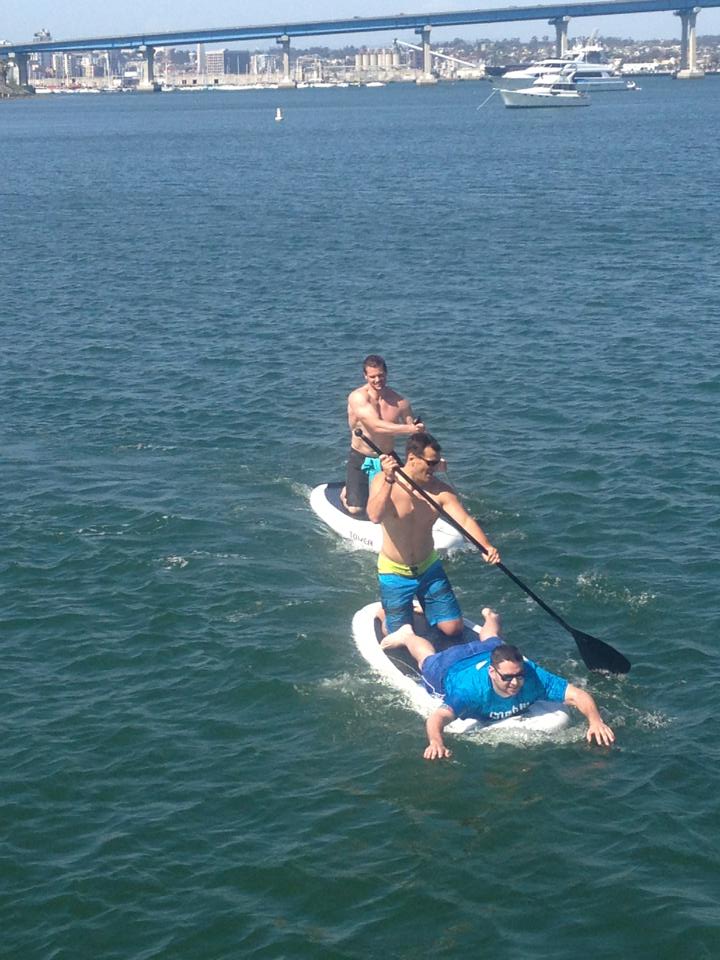 We took the catamarans to a private beach where the boat anchored about 100 yards from the shore. We then formed teams, and had paddle board races. The team that shuttled everyone to the beach the fastest won! We won!
Once at the beach, each of the six teams competed in tug of war contests. This one we didn't do so well in. I think it had to do with us having 2 members less than the other team. But I could just be a sore loser… 🙂
It was an awesome day with great people, and fun activities. We all came together to learn how to get better ourselves, and how to help the people we coach get better.
I believe that it's not about how well you do yourself in life, but how many people you personally help do well in life that really matters. I feel like the Fortune Builders are a group of individuals that feel the same way.
To get involved with the Fortune Builders Coaching program click here