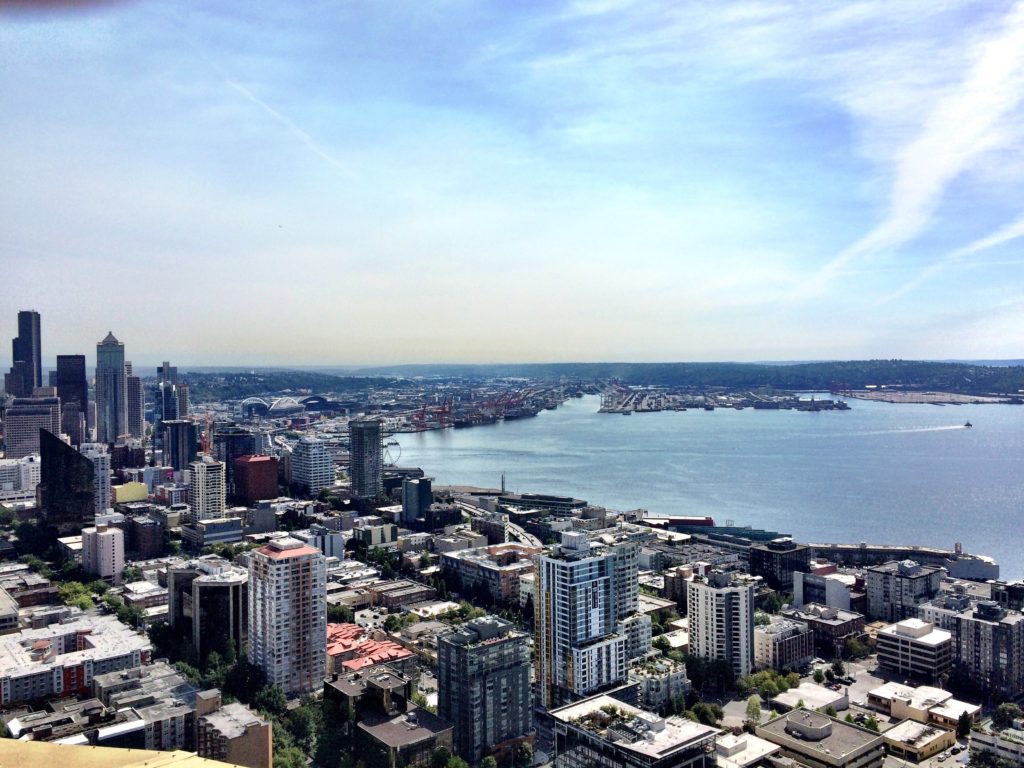 Well connected, with a booming economy fueled most recently by tech companies and one of the hottest property markets in the country, Seattle is keeping all eyes focused on itself for quite some time now. The Emerald City has a lot to offer but the big question is whether people who want to live here actually can? The housing costs have been rising rapidly for the past few years but is the 2018 poised to reverse this trend?
With the city being one of the most popular relocation destinations in the US, it's worth taking a closer look at the prospects of buying a home here. While your unique situation makes it impossible for anyone to give you a definitive answer, this post will arm you with some great knowledge to make an educated decision.
What trends are affecting Seattle's property market?
Seattle's skyline is shaped by stunning skyscrapers and urban architecture that reflects well on the strong economic situation in the city and its whereabouts.
One of the most prominent factors explaining the city's growing appeal is the influx of job openings from major tech giants like Microsoft, Facebook, Amazon, Google and Apple. Amazon alone promised 50,000 tech jobs in the city. Some locals are quick to blame these companies and their high-paid jobs for the rising costs of living in Seattle. Come to that, a growing number of foreign buyers are contributing their fair share as well. However, while all of this is definitely true, it's also only one part of the equation.
The other part is the underlying imbalance of the Seattle's property market. In short, the number of homes for sale is far, far smaller than the number of people looking to buy. For local developers, it's just too expensive to build new condo developments and housing given the high costs of labor and materials and, ultimately, the shortage of land.
This makes Seattle a seller's market. According to Attom Data Solutions, home sellers in Seattle get a 64% profit from selling their homes. Lack of inventory and competition from high-paid tech jobs are pushing the prices up – so much so that the median home price in Seattle equaled $700,000 in April 2017 according to Zillow while the median annual rent was around $2,000.
The most recent data shows that a $1,000,000 mark is no longer unheard of – the neighborhood of Queen Anne is the first one to have a million-dollar median home price. Capitol Hill and Beacon Hill are quickly catching up.
To show you just how crazy the competition for housing in Seattle is – and the degree to which available inventory is behind the demand – consider this simple measurement realtors are using for home sales. The average time the house is up for sale in a healthy market is four months. In Seattle, it's eleven days, according to a local real estate agent.
So are Seattle home prices expected to grow in 2018 too?
Yes, but not as explosively as they did in the recent years so this will cool the market a bit. In 2017, home prices in Seattle grew by 12.7% with the national average of 6.2%. In 2018, Seattle housing costs are expected to rise by a less whopping 5.4%, according to Zillow.
As for the rentals, they, too, will be rising, but more slowly – by 3.5% in 2018 compared to 5.4% in 2017.
Cooling of the property market is actually a good thing for the city and its surrounding areas. More affordable housing is not only fair to the local residents born into the city but for sustainable development as well. In turn, this makes the area more prosperous and appealing to the rest of the country.
Should you buy or wait for the market to cool?
With all of the market data looking altogether not that optimistic, what's the best plan of action for people looking to buy a home in the Seattle area?
Ultimately, the decision is yours of course. However, the upshot is that it's going to be hard to buy a home in Seattle in 2018 and into 2019. A strong seller's market and fierce competition for homes available for sale leave you with fewer options to choose from.
Bidding wars are also more competitive than in less constrained markets with more inventory available. According to the insights shared by local realtors, it is typical for aspiring homeowners to have to bid three or four times before they can gain a significant bargaining power in negotiations.
Helpful tips on buying a home in Seattle
If you decided to buy a home in Seattle, here's some advice from the field that will come in handy.
Be ready to make a quick decision
With an average time property sits on the market in Seattle being just eleven days, home buyers do not have a luxury to "sleep on it". You have to be ready to make a decision literally overnight.
Consider buying at the beginning of the year
January of 2016 and January 2017 have seen the lowest prices for a single-family house in King County. Spring and summertime are traditionally the hottest seasons for a property market as families are gearing up to buy before school starts over – and so the prices go up, naturally.
Hire a great realtor
In a market as hot as Seattle, a professional real estate agent is a must. Consider carefully.
Do your research
Study the area you would like to buy a home in. Research a few neighborhoods so you understand all subtle (and not so subtle) points. This will give you more power at the negotiations table.
Get pre-approved for a mortgage
Make mortgage the last thing to worry about. Try and sort it out before your house hunt begins. Your mortgage advisor will be able to point you in the right direction.
Consider acting now versus wait and see what happens
Did you know that Fortune's advice is to buy sooner rather than later? Well, it makes sense because prices are always climbing up in the long term. On top of that, most analytics and forecasts promise higher housing costs in the Seattle area in the coming years, even if they're growing slower in 2018. So ultimately, buying now is a better strategy than waiting.
Being part of the incredible community that the Seattle area is remains a dream for many newcomers and locals alike. Despite the growing housing costs, Seattle can't be anything less than an inspiring and welcoming place to start a new chapter in your life – so good luck with that!
Author bio: Ariane is a writer for TMQ.us with a keen interest in the nationwide property markets. His content covers actionable advice for home buyers and sellers as well as people seeking to relocate.