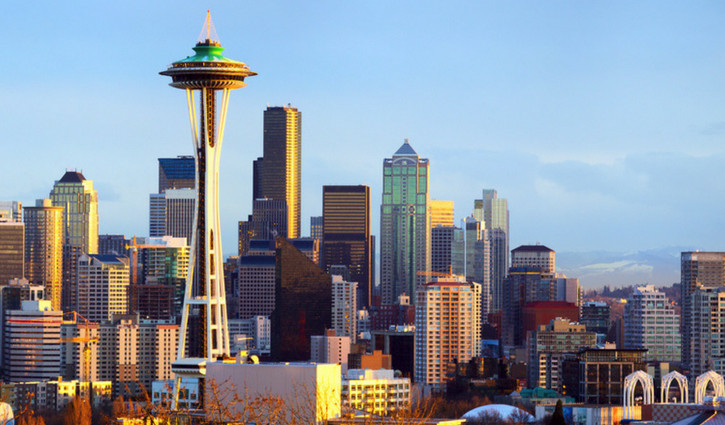 It's true that Seattle has more 'rain days' than most U.S. cities; however, when it does rain, it's a light drizzle that doesn't keep you from enjoying everything the city has to offer. In fact, many tourists say that it's far from soggy and sun-deprived. While it has gray, rainy moments, Seattle summers are spectacular, and Winter temps aren't bad at all.
And when you think about Seattle's nearly 40 million visitors each year, it's evident that the weather doesn't keep people away. From the music to the food to the attractions, Seattle is bustling with culture and excitement. Here is a list of seven must-see places and must-do activities when you visit the Rainy City.
1. Space Needle
The iconic Space Needle is Seattle's most famous attraction. It's a must-see for any tourist who can't afford to miss the very symbol of Seattle. At 520 feet, the observation deck offers panoramic views of Seattle – from the mountain ranges to the Elliot Bay waterfront to downtown Seattle.
2. Pike Place Market
Pike Place Market is a haven for foodies. Find year-round farmers markets, butcher shops, specialty food stores, bakeries, and fresh seafood. From the throwing of fish nearby the main entrance to fresh flowers to crafts, Pike Place Market has something for everyone. Check out Daily Dozen Doughnuts, Beecher's Cheese, and have a bowl of Seattle's hall-of-fame Pike Place Chowder. Pike Place Market is also where you will find the original Starbucks.
3. Pacific Science Center
The Pacific Science Center is a must-see for the whole family, mainly if you are a science geek. The center boasts hundreds of interactive exhibits and experiences including a Planetarium Show, a Tropical Butterfly House, and a laser show.
4. Chihuly Garden and Glass
Chihuly Garden and Glass is probably one of the most Instagrammable places in Seattle. The museum's collections of glass artwork are colorful and fascinating. The Glasshouse often closes for private events; however, the rest of the Exhibition and Garden stays open. Check the schedule before visiting if you want to see The Glasshouse.
5. Seattle Great Wheel
The Seattle Great Wheel sits on Seattle's waterfront. Standing tall at 175 feet, the Seattle Great Wheel offers spectacular views. The Ferris wheel gondolas are enclosed and even have heating and air conditioning.  
6. The Seattle Aquarium
Because the Seattle Aquarium is an indoor aquarium, so it doesn't matter what the weather is doing outside. Come by on even the rainiest of days to see delightful marine mammals, birds, fish, and invertebrates. Witness giant Pacific octopus feedings and diver shows.
7. The Underground Tour
The Underground Tour is described as Seattle's most unusual attraction. It's perfect if you love mystery, history, and humor. If you're looking for interactive fun, the Underground Tour takes its participants on a 75-minute guided tour through Doc Maynard's Public House and the historic Pioneer Square – Seattle birthplace. Finally, you plunge underground for an exclusive view of the buried city.
Seattle has so much more to offer. These are just our favorites. Are you from Seattle? What do you think are the absolute must-see and must-do's?