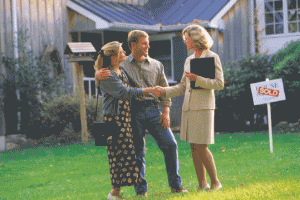 We know that buying and selling a house is a scary prospect. Where does the money go? Who should you be dealing with to get paperwork signed? Which house is right for you? Who will buy your house (if you're selling)? These are all important questions you should ask a realtor, but there are times believe or not, where you do not need a realtor to buy and sell a house. If you're a motivated seller (i.e. circumstances have changes, your job has transferred you out of town etc. etc), you shouldn't use a realtor and instead sell to an investor. Surprise surprise, you don't necessarily need a realtor for every transaction involving your house. Motivated sellers should look into selling their property to an investor and here's why:
1) Speed
The first and most obvious reason why you should sell your property to an investor is speed. Simply put, there is no other option you'll have that will help get your home off the market and cash in your pocket. Investors typically know what they're looking for, their price point and can give you an offer immediately. Usually, investors pay in case, or have worked out their funding weeks ahead of time so there's no waiting for someone's house to sell or for a buyer to collect a down payment in time. Working with an investor, you can see things finished (keys transferred and a check made out to you) within two weeks.
2) Convenience
As mentioned, investing in houses is their job. They see buying your home as an investment and a service to you, so they are willing to work with your schedule. You don't need to stay close to your phone or worry about missed messages, or even have to worry about leaving your house to get out of the way of potential buyers who have come to see the residence.
3) Guaranteed Closure
Investors aren't purchasing your property to live in, so you won't have to worry about a sudden pullout by the investor and lose your income. Investors are generally investing in multiple properties at one time, so there is no emotional connection to the house, or to another house if an investor finds something better. If an investor demonstrates interest in your property, listen to their offer! Again, since they've figured out their financing ahead of time, you don't have to worry about a sudden pullout due to a lack of money.
4) Selling your property as is
A huge advantage to selling to an investor is being able to sell your condo/house in the as-is condition. This means your workload is reduced substantially. There is no need for you to repaint the house, re-carpet the living room, or re-tile the kitchen. What your house looks like is what the investor is going to purchase. Whatever issues that come up during inspection, the investor generally takes care of whatever pops up. Putting a house on the market can be very expensive. Thousands in repairs are sometimes order 10 mg valium online needed (all the stuff that piles up over the years) to get your house up to the condition of similarly priced houses in the area. Even after making your repairs, it's not always a guarantee that your realtor will be able to sell your place. Investing in your house is a time consuming endeavor, so it's important to take stock of what repairs or repainting your house will need before you consider selling. Investors don't think of such things when purchasing – they're more concerned with location, history of the neighborhood and city and overall condition of the house. If your house is in decent condition, you should be able to find an investor fairly quickly.
5) Investors are adaptable
The best reason to use an investor is because of how flexible they can be during the buying and selling process. They are generally willing to structure the deal in any way that you'd like and are amenable to the changes you want most of the time. Since they won't be living in your house, some investors will even allow you to stay a few extra months while still being interested in purchasing your property. If circumstances change for you suddenly (new job doesn't transfer you after all for example), there isn't any lost money – no fees or transaction have occurred so everyone gets to walk away happy. Something that's very helpful for you and incredibly common with investor bought properties is the investor purchasing the property and then renting it back to you while you find a new place to live. Communication is important in any real estate deal (with a realtor or no), so make sure you keep the lines of communication open at all time between you and your potential investor.
6) Save money
Without a realtor involved in every single aspect of the transaction, you will not have to pay closing costs and the realtor's commission. When the transaction is completed, you'll have a check for the agreed upon amount without a huge bite taken out by a realtor. This above all else, is the best reason to sell to an investor.
Investing in real estate (especially after the financial crisis) has become very common over the last few years. Housing markets all over the United States have begun signaling that housing markets are bottoming out and investors are paying attention. The old adage with investing is "Buy low, sell high" and right now prices won't be going any lower. This means that investors are looking to great places to buy before prices begin to climb back up. There is a lot of money still out there in the housing market, and by choosing the right investor for your property, you can grab some of it for yourself!