Hard money. What is it?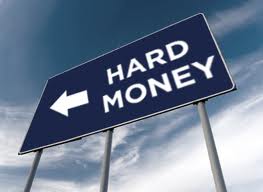 Hard money sounds like one of those mysterious financial instruments that only the rich and privileged have access to. That couldn't be further from the truth. Hard money is more or less private money – money that doesn't come from banking institutions, but rather usually comes from individuals or small lending companies. These loans are an alternative to banks and other institutions and their loans are usually very different. Hard money loans are not thieving opportunists, nor are they last-minute saviors, but hard money loans can be a great resource for you to use when you want to invest in (or flip) real estate.
Hard money lenders are expensive and can charge high interest rates. They also typically lend for very short terms, usually a couple of months, or no more than a few years. Hard money loans have extremely low loan-to-value ratios, meaning they will only lend a small fraction of the value of the property. For example, if the property is worth $100,000, the hard money lender would only lend you up to $80,000 (or 80% of value). The cool thing is that 80% can include money to fix the property. Hard money lenders aren't for everyone. In fact, these specialized loans aren't usually for everyday home buyers who would be better off finding better terms at a larger lending institution or bank, they are for investors that are looking to buy, fix, and sell (or refinance) for a profit.
Click here to join our buyers list and get your hard money referral today
So when should you use hard money for real estate investing? Well, the answer lies within the loans themselves. The terms and time it takes to process the hard money loans is generally much shorter than any bank or lending institution would be able to process them. For example if there is a great house on the market for sale way below its value, the expense of the hard money loan would be worth paying for because you can resell for a profit or refinance. Getting a quick hard money loan for a house that's distressed is much easier than turning to a traditional bank for your lending. The greatest advantage of a hard money loan for real estate investing is that they are collateral-based lenders who focus first and foremost on the equity position of their lien. Banks also have higher credit restrictions on lenders than the hard money loans do, so if your credit is a problem, the higher interest hard money loan might be right for you.
Hard money loans are especially suitable for fix and flip investors who buy a "shell" of a house and use the hard money to refurbish or renovate the home and quickly turn the home around to sell for a good profit.
If you don't have cash to invest in real estate, hard money is a great choice! For a referral to our hard money lender join our buyers list, and make sure check the box asking for a hard money referral.